Sardegna – Corsica
The Gallura of the sea
From Olbia to Maddalena passing through the Costa Smeralda, from Palau to Santa Teresa, crossing the coasts and the most beautiful villages of north-eastern Sardinia.
Palau
Coastal location and starting point towards the Maddalena archipelago, it is known for its beautiful beaches alternating with suggestive granite rocks. Near the town is the famous rock of Capo d'Orso, a granite hill, over 120 meters high, shaped by water and wind in the shape of a bear, visited by thousands of people every year. In the surrounding area, various archaeological sites stand out, in particular nuraghi and Giants' tombs, burials characterized by a singular construction typology whose plan resembles a bull protome.
Santa Teresa di Gallura
The foundation plan of the seaside village was designed by Vittorio Emanuele I in 1808. Today it is a renowned seaside resort that stretches out on a rocky plateau in a jagged stretch of coast. In its territory there are inlets with beaches of light and soft sand and coves of granite rocks shaped by the wind, real inimitable 'pearls' of northern Sardinia.
Bonifacio
One of the most picturesque places in Corsica, suitable for family holidays and able to satisfy lovers of the sea and the mountains. Very lively in summer, it is full of typical bars and restaurants such as the famous "Port of fishermen" an internal cave. The most beautiful part of the town is its historic center, divided into the Upper Town and the Old Town and characterized by winding streets, squares and churches overlooking the sea. From the narrow streets of the medieval citadel you can admire a panorama of incredible beauty, which reaches the nearby coasts of Sardinia.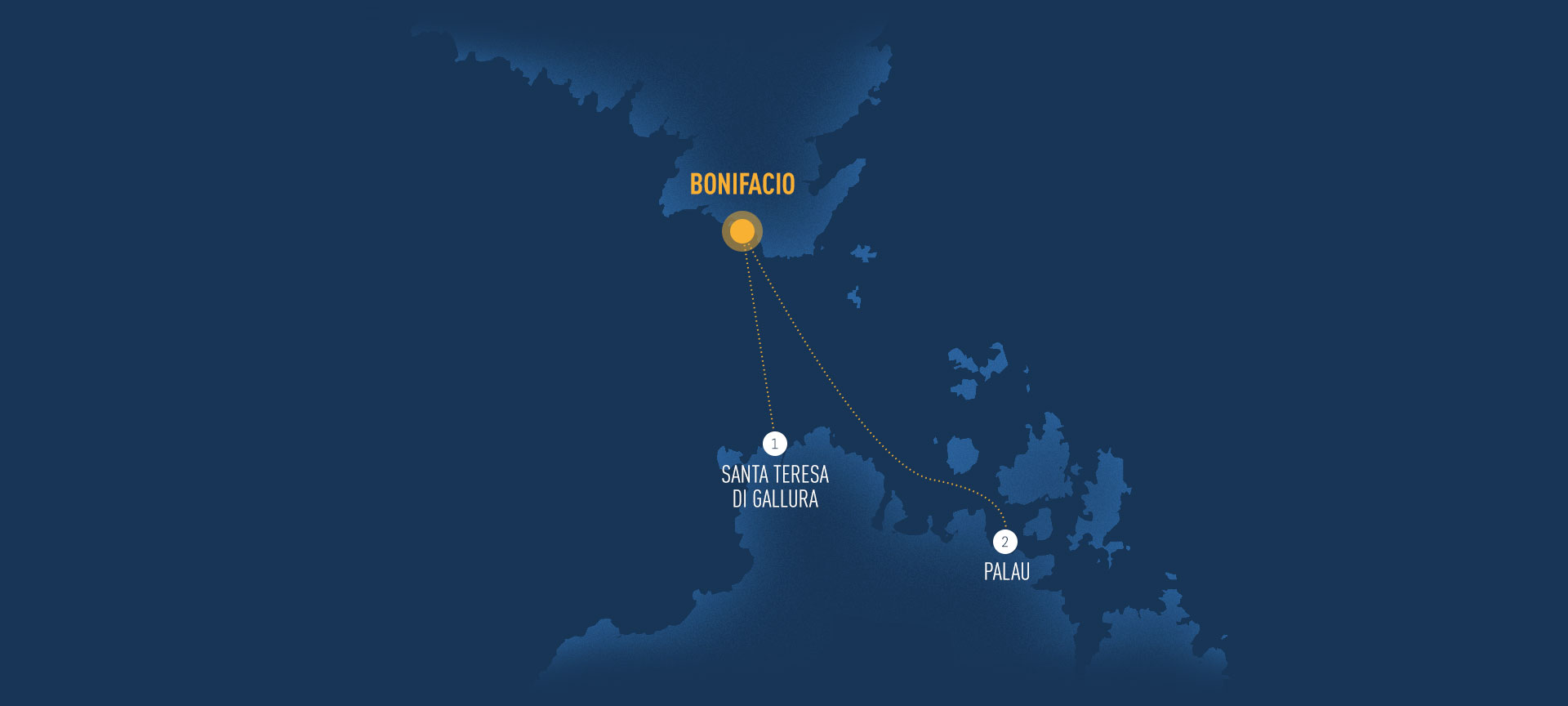 Tratte disponibili per Sardegna – Corsica