Terracina – Ponza
Find out the timetables and fares for Terracina – Ponza and book your ticket
When do you want to leave?
Choose the time slot you prefer and find out the timetables, fares and information for your departure.

Hours
(from01 June to the10 September 2023)
Terracina
Ponza
8:40

Everyday

11:40

fri-sat-sun

17:15

mon-fri-sun
Ponza
Terracina
10:15

Mon-Fri-Sat-Sun

15:45

Friday and Sunday

18:40

Everyday

Hours
(from11 September to the01 October 2023)
Terracina
Ponza
Ponza
Terracina
To the above rates must be added € 2.50 per person until 05/31/23 . From 01/06/23 to 30/09/23 you have to add € 5.00 per person AS A CONTRIBUTION FOR LANDING IN Ponza as per Municipal Resolution No. 39 of 24/02/2023 of the Municipality of Ponza
Reductions for groups (minimum 20 pax)
INFANT:
up to 2 years of age. Free passage without seat assignment.
GUIDES AND LEADERS GROUPS:
1 free ticket for every 20 paying guests + free passage for authorized guides.
BUNKER SURCHARGE:
The rates include the additional tariff for "Bunker Surcharge" and therefore are
susceptible to variations in relation to the trend in the cost of fuel.
LANDING TAX :
The rates do not include the landing tax on the islands (L.44 / 2012).
note: The landing tax is foreseen only for the "mainland - island" and "island - island" routes.
On the other hand, it is not envisaged for the "island - mainland" section.
VAT LAW :
The total amount of tickets (vehicles and passenger) is VAT included. Port taxes and duties, where due, are excluded from VAT. pursuant to article 15 DPR 633/72 and included in the total amount.
Info and booking for groups
commerciale@nlg.it

Tariffs
One way

Roundtrip

A/R

Adults

€ 26,50

€ 53,00

Children (2-12 years)

€ 15,50

€ 31,00

Luggage (per piece)

€ 3,00

€ 6,00

Pets

€ 6,00

€ 12,00

Diving equipment

€ 4,00

€ 8,00
Info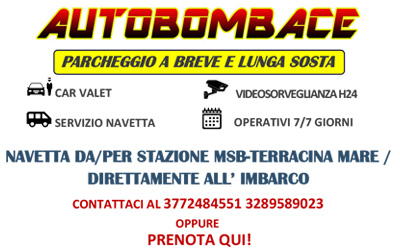 One way

Roundtrip

A/R

Adults

€ 23,50

€ 47,00

Children (2-12 years)

€ 13,50

€ 27,00

Luggage (per piece)

€ 3,00

€ 6,00

Pets

€ 6,00

€ 12,00
Info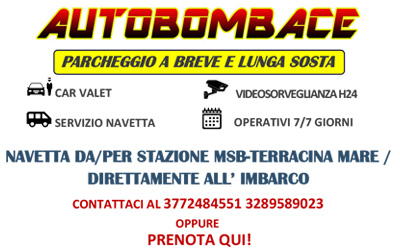 Ticket offices